Artikel mit Tag humor
Ganz grandioser Comic von
xkcd
: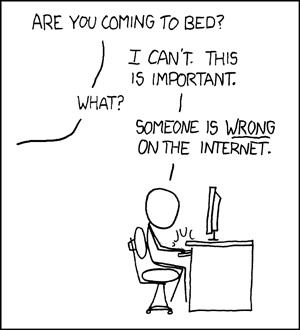 True, true...
Manchmal wünsche ich mir das...
Powerpoint Karaoke
Powerpoint Karaoke
am 08.12. in der
Roonburg
hier in Köln, das könnte ein großer Spaß werden.
Schöner
Quote
:
< RobotJunk >: How do I use dBase III database with more that 255 fields in a table?
< teHr0k >: Change out of your parachute pants and get in your 1986 Dodge K Car and drive to the Airport, while listening to Duran Duran on the radio. Lastly, catch a Flight on Braniff Airlines to the 21st Century.
Soll man
solche
Software auf sein System loslassen?
# This code comes with no warranty of any kind. You are free to do whatever
# you wish with it. There is the very slim possibility that this piece of
# code may infiltrate your Jabber server, jump onto the computers of all the
# members logged into the system, send copious amounts of spam from their
# computers, then erase their hard drive, and spin every motor, fan, drive
# and moveable part in a synchronized rhythm until it turns into a raging
# thumping electro-magnetic beast destroying all data in a 50 foot radius of
# itself, disrupting all electrical devices, and resetting the time on all
# kitchen microwaves, and clock radios causing people to be late for work,
# and appointments, causing everyone to rush to work, causing extreme traffic
# and massive pileups on our highways and roads, disrupting the abililty for
# medical, fire and emeregency vehicles from responding in a timely fashion
# causing many to suffer and perhaps even die. If you care for human life
# you may not want to use this code. You are forewarned - don't blame me.